I Watched Criss Angel's New TV Show So You Don't Have To
Criss Angel is back on TV as the face, mentor, producer, and judge of his new magic show shot at the Criss Angel Theatre, in which celebrities perform only Criss Angel's illusions.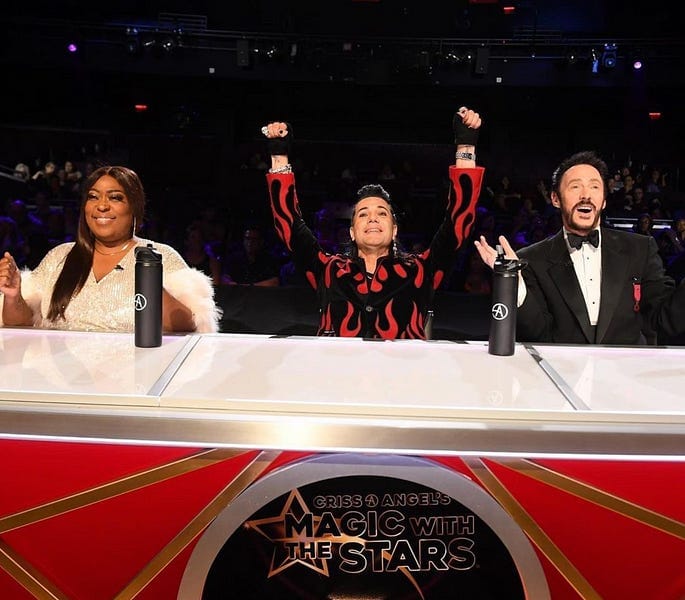 I'll be honest: you should watch it, too.
Once upon a time, there was a man named Criss Angel. This man performed the most incredible, controversial and down-right ridiculous magic stunts. Those on-screen antics led to an objectively impressive live-performing career in Las Vegas. Now, he's back on telly in a show that is nothing if not totally 'Criss Angel' through and through.
You might be asking yourself, why didn't I know about Angel's new TV show? Well, it's actually quite hard to find. It's nearly impossible to source clips on YouTube. How did we at One Ahead hear about it? Well, from Angel himself… via Twitter.
The One Ahead Twitter (@oneaheadclub) only follows one account. That account is the Twitter account of Criss Angel. Yes, we only follow one account, and it's Criss Angel's because I thought it would be funny. But then, several weeks ago, I opened our Twitter and saw a video on my timeline of Frankie Muniz rehearsing his illusionist air fist pumps.
Who is Frankie Muniz? Well, he's the American child star you'll likely know as Malcolm from the hit sitcom Malcolm In The Middle. I, of course, knew him from the hit teen movie Agent Cody Banks — a film which made a younger version of myself want to be a spy and also want to date Hilary Duff.
Well, Frankie Muniz is all grown up, and now I'm watching him on stage in Vegas getting taught how to fist the air by Criss Angel. Consider my interest piqued.
It turned out that Frankie is a competitor in Angel's new CW show, Magic With The Stars. I needed to watch an episode.
For readers old enough to recall 1982's Magic With The Stars, starring David Copperfield and Orson Welles — this show is not that show.
I hope that clears things up.
So, let's find out if Angel's new show is a cash-grab, ground-breaking television or nothing but a big fat scam. Will The CW bring it back for a second season? Buckle up, and enjoy today's story.
---
Part 2. WTF is a Criss Angel?
I'm British, and as far as I can recall, we never had Angel on British television (UPDATE: his show did air in the UK in 2006). So when I think of him, I go to some of his most controversial moments within the magic world. And he is a controversial figure, Angel, inside and outside of the magic industry.
I might first recall him using his powers to swap the lower halves of a man and a woman in a park. Yes, he really did do that. Perhaps you'll remember the time he pushed a stranger's pregnant belly inwards to be totally flat. I first saw these clips as a kid on a low-quality early version of a website called YouTube. The videos are incredibly engaging, and it's hard to look away.
He's infamous within the industry for using stooges who are in on the tricks. And when he's not doing that, his spectators are often giving unrealistically over-the-top reactions to his magic.
This isn't too surprising for magic television. We've all seen huge reactions to David Blaine's magic, and some of us remember the time he pulled out someone's teeth. I think what makes Angel so unique is how frequently and consistently he ignores a lot of the "magician's code" (if such a thing exists) and focuses his efforts entirely on putting on a great and memorable show.
For Americans, most were introduced to Angel via his 2005 A&E Network television show named MINDFREAK (All caps). According to Angel's website, MINDFREAK is 'the most successful magic television series of all time.'  For the uninitiated, hopefully, you're starting to get the gist of his personality.
It's actually been quite hard for us to fact-check elements of today's story. A lot of  reporting on Angel and his new show comes from Angel or his team. Much of it includes quite big sweeping claims like 'Angel is the most influential and imitated magician of the modern era.'
No doubt, Angel has had some iconic moments, too — like the time he levitated above the Luxor hotel in Vegas. His silhouette was lit by their iconic upward-pointing spotlight at the top of the pyramid-shaped building. It looked incredible.
Angel also performed one of the most iconic versions of the walking on water illusions. He performed the illusion in a Vegas pool packed with swimmers. The effect looked stunning, especially seeing supposedly everyday swimmers swim below him and pass in front of him.
A near-identical walking-on-pool effect was recently shared by another controversial figure within the magic world, social media magician Julius Dein. So, perhaps there is some truth in Angel's claim that his tricks get imitated. Even Daniel Craig imitates it in a new commercial directed by Taika Waititi!!
Today, you can find Angel performing in his Las Vegas stage show MINDFREAK at the Planet Hollywood Resort and Casino in a theatre named after the magician. This detail will become important later in the story.
The show has been a success in many ways. Angel claims it was even named 'the number one magic show of all time' by the Las Vegas Sun, though we were unable to fact-check this quote or find it anywhere on the Las Vegas Sun's website or in their official show review. Their review of the original incarnation of MINDFREAK live begins:
'Criss Angel wants it. He wants it so badly. He wants to be the biggest, baddest, greatest magician in the history of recorded time, space and dimension.'
The reviewer does call Angel a 'Vegas success story,' and I can't help but find myself agreeing. The drive Angel has to position himself at the top of the world is remarkable and is working to keep his career ploughing onwards.
I've worked in the magic industry for ten years and have been a sort of bystander to Angel's career. I wouldn't say I've taken much notice of it.
I was a member of Dynamo's creative team around the time Angel accused him of stealing his levitation pose. Not the method or overall effect — the actual pose Dynamo stood in when he levitated. That's the same pose anyone who's ever levitated stands in.
But from my perspective, it seems Angel has taken huge strides over the years to become more accepted and respected by the magic community. Whether these strides are intentional or not, it's hard to tell. I've certainly always imagined Angel to be someone who cares far more about the audience and perhaps himself than the opinions of fellow magicians.
Nonetheless, his approval ratings within the magic industry can be objectively measured. David Penn appeared on stage with Criss Angel to award him with Professional Honorary Membership to The Magic Circle in 2022.
But it has been almost ten years since Angel was on screen in his own television series. That needed to change.
---
Part 2. Not Dancing With The Stars
CW, the smallest broadcast network, unveiled in May 2022 that there would be a new magic show coming to its 2022-2023 season. Soon to be airing alongside Riverdale, Whose Line Is It Anyway? and, of course, Penn & Teller: Fool Us would be a show created, produced by and starring Criss Angel.
The show is technically called Criss Angel's Magic With The Stars, but this article has the words 'Angel and Criss' too many times as it stands.
In each one-hour episode, two celebrities train with Criss and his team to learn his illusions and compete in multiple magic performances. Competitors must master three major categories of magic and perform for a panel of three judges and a live studio audience.
At the end of the episode, the highest-scoring celebrity wins, wait for it, a Golden Wand. I can just imagine the show's producers coming up with that format point.
The show is reminiscent of formats like BBC's The Magicians, which teamed up celebs with magicians like Pete Firman and Barry & Stuart. There was also a VH1 series called Celebracadabra' in which celebrities attempted to learn and perform magic.
About the creation of the show, Criss Angel says, "During Covid, it was a very trying time. I tried to use it positively…I wanted to put something out there when we came back from Covid that would be completely different than anything ever done on television."
The show is hosted by comedian Eddie Griffin. Angel takes on the role of a head judge alongside magician Lance Burton and comedian and Emmy award-winning talk show host Loni Love.
You might be shocked to read that Lance Burton is one of the three judges. Burton is highly regarded in the magic world, and reality television is not somewhere many expected to see him next.
The show premiered on the 22nd of October 2022, and new episodes continue to air every Saturday on The CW. So far, the show averages 345,000 viewers per episode. The most recent series of Penn & Teller: Fool Us, which airs on the same network, averages 679,000 viewers.
Unlike Fool Us, which racks up millions of views on clips posted to YouTube, it's near impossible to find clips of Angel's show online. An industry friend of mine wonders if this has something to do with the fact the competitors are all performing tricks from Angel's live show.
I'm not so sure. The CW does not have the best YouTube presence, and if you search Fool Us on YouTube, you'll find all those clips racking up millions of views are actually posted by the magician competitors - not The CW. It's likely that The CW and the production team are handling Angel's show in the same way as Fool Us.
There are some short clips on The CW's Instagram page, like a clip of Miles Brown levitating that has so far amassed 12.8k views. A second clip of the Olympian Lolo Jones and an assistant performing a Metamorphosis illusion wearing next to nothing has amassed 122.5k views. Roman, who helped write this article, isn't convinced the higher view count is due completely to the magic.
So what do professional critics think about the show? Good question. We couldn't find any comments from professional reviewers. The show has a 67% average audience score based on just four reviews on Rotten Tomatoes and zero critic ratings.
On a family-focused website, only one parent shared their review:
'Actually was better than I expected. I am a fan of Eddie Griffin. I felt the judging was good in that Lance Burton provided great insight and history on the magic. Chris Angel I have never seen in this light and it was refreshing. The performances by Miles Brown and Corbin were great! I admit I was expecting more informal magic than grand magic but the production quality was up there with American Idol or actually, it was better!'
If you click through to the anonymous reviewer's profile, you'll find it's the only review they have ever shared. In fact, they created their profile the day they shared the review.
Over on IMDB, the show's four user ratings are not amazing, with the first one titled: 'Just as bad on TV as it was in person.'  The reviewer goes on to explain that they were in the audience for the taping of an episode.
They were upset by how manufactured the show was, though you could say this for any studio show. They didn't like that they had to give fake reactions for half an hour before the show, though this is normal for all studio and talent shows. Shows like Got Talent can't afford enough cameras to shoot the stage, judges and the audience. So, they'll record fake audience reactions earlier and drop them into the edit. This is standard practice.
What is not standard practice is the fact the reviewer says it took eight hours to record the final 40 minutes of television. Eight hours! That is insanity.
It looks like if I want a fair review of this show, I'm going to need to give it a watch myself. I tracked down an episode somewhere on the internet, grabbed some snacks and hit play.
---
Part 3. I Gave It A Watch
The episode begins with Angel's trademark whisper, "Are you ready?" and we're off. I've got to tell you: the intro had me hooked. It's an incredible taster showcasing clips from the series and setting up the format perfectly.
Let me tell you: this show has a lot of fire. However much fire you're currently imagining, triple it. Judges, surrounded by fire - Criss Angel illusion appearance, surrounded by fire - the host, surrounded by fire - so - much - fire.
The show feels like one of those syndicated editions of Britain's Got Talent. You know when you see a clip of a Got Talent show from a smaller country. You get the sense that it's a lower budget, but it's just as captivating.
In the episode I watched, the celebrity competitors were Corbin Blue, who was in the cast of the original High School Musical films, and Miles Brown, a young actor best known for his role in ABC's Black-ish. Miles is a lifelong fanboy of magic and Criss Angel. Later in the show, we'll even see his Criss Angel magic set.
As the celebs get introduced on stage, we hear some advice from the three judges, and it's made clear that the celebs will perform Angel's tricks. "I've put my life's work in your hands," says Criss, "make me proud."
That's right. All competitors in Criss Angel's Magic With The Stars will only perform Criss Angel's illusions. Plus, the show is shot in the Criss Angel Theatre. You might think this is a symptom of narcissism, but it's more likely that these are all cost-saving measures. Fool Us is shot at the Penn & Teller Theatre, and the competitors on their show are magicians who bring their own tricks.
I wrote about Penn & Teller's show recently and how it's become much more of a low-input marketing exercise over the years for the duo. The show has relatively low ratings, though average for The CW, and is remarkably low cost and intensive to produce. The biggest hurdle Penn & Teller have is fulfilling their contractual obligation to perform a new trick at the end of every episode — something that becomes very difficult after ten seasons.
There are seven of Angel's illusions in just the one episode of Magic With The Stars I watched. I have no idea how he can keep this up for an entire season, let alone multiple (if renewed), without running out of tricks.
Though, let me tell you about the tricks.
They're less complete tricks or routines and more moments of magic. Corbin walks around a chair upon a platform before gesturing upwards as two assistants appear in the chair. The judges then critique his nine steps to the left and hand gestures. Miles is up next: he walks around a platform, talking to the audience as two assistants stand upon it. A cloth sheet gets raised, and then Miles pulls away the sheet, and the two assistants are gone. The three judges then critique his sheet-pulling abilities.
It's difficult to tell if the limited input by the celebrities is because they're limited in the number of illusions Angel has prepared or if it's down to a short rehearsal time or perhaps the celebrities' abilities. Maybe there was a reason the BBC paired celebs with magicians in their similar format — allowing the magicians to do the technical work in the routines.
But here's the thing, there are seven tricks in this episode, and the next two require technical skill. Both Corbin and Miles perform rather brilliantly two close-up magic tricks. They genuinely put magicians to shame with how good their acts are.
For the contest's final round, the two celebs perform the first and second half of Angel's iconic stage levitation routine. You might have seen clips of Angel impossibly balancing and walking horizontally down a giant ladder. We watch the pair train at Angel's warehouse. The risks involved in the illusion are made clear.
Both celebs go on to perform their halves of the routine well. What I find odd about the entire setup is that the method feels rather apparent once you see them training. Seeing them train for a sleight-of-hand trick or an illusion box, you don't really get a sense of the method. But when you hear Angel talking about how they'll need 'balance, concentration, and absolutely no fear' before watching the celebs in harnesses practice walking up the ladder — it's just not what I was expecting.
I always saw Criss Angel as a guy who presented everything as though it was real. In his words, he's the MINDFREAK. There's something about watching celebs quickly learn and then perform his illusions that breaks that identity for me. Suddenly, Angel is much less god-like and far more mortal. Perhaps that's what his brand needed in 2022… so long as there's still plenty of fire.
The contest ends in a draw, so it's down to head judge Angel to choose and write down his winner in a red envelope. The host reads it out and awards the golden wand (yes, they're still calling it that) to the winner (no, I won't spoil it for you).
Overall, I've got to tell you — I enjoyed the show. It's an entertaining watch. It's way too long. It would be excellent family telly if it was half the length, with half the number of tricks (but actual full-length routines).
The show is a rather full-on brand positioning exercise for Angel, but then isn't Fool Us just the same for Penn & Teller, though they are more subtle about it and didn't create their format.
There's only one female contestant in the entirety of season one. Maybe all the women they asked to compete said no. Hopefully, if there's a second season they'll level it out with an all-female cast and get the one male celeb to perform shirtless.
Will the show get a second season? Well, there's no news as of now. But the CW is run by Nexstar, who has made it clear they're focused on inexpensive and acquired programming. It isn't easy to know how much The CW is paying for the show, but it's certainly efficiently budgeted for Angel and his production team.
There's a strong chance the show will get a second season. If so, expect to see more celebs performing sections of Angel's routines on the telly.