Basic Content
What Happened to Shin Lim: Where is he Now?
Everything you need to know about magician Shin Lim's explosive career: from America's Got Talent to his Las Vegas show.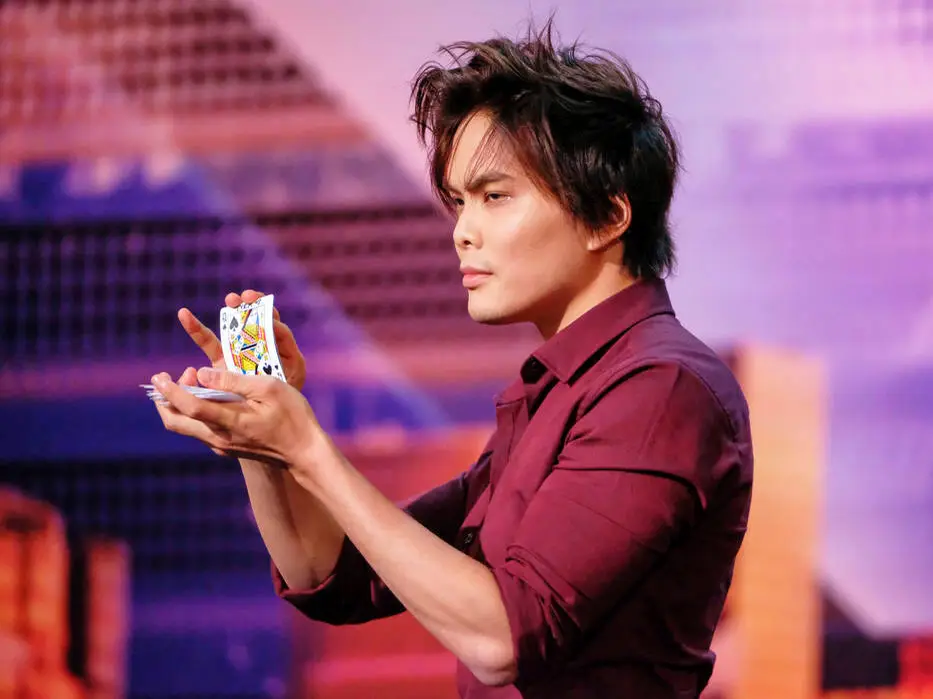 In 2018, Shin Lim won America's Got Talent with expert sleight of hand, music, and a large amount of Vegas flair. So, it's no surprise that he cashed in on his AGT stardom with his own show, Limitless, which opened at the Mirage in May of 2019. What is Lim doing now, and how did he get to Vegas?
How did Shin Lim start in magic?
Lim talks about his journey into magic in Limitless–he was initially a talented pianist until he got carpal tunnel syndrome. Unable to play the piano, he switched to magic, a pretty logical leap for someone already extremely proficient with his hands.
Did Shin Lim Win America's Got Talent?
Shin Lim won season 13 of America's Got Talent in 2018, and followed it up by winning America's Got Talent: The Champions in 2019. Lim was the second magician to win AGT, succeeding his fellow Vegas headliner Mat Franco, who won the show in 2014.
Where is Shin Lim Now?
Lim is currently headlining his own Vegas show, Limitless, at The Mirage Hotel in Las Vegas. However, unlike most Vegas magicians, Lim has a co-star, Scottish mentalist Colin Cloud. In fact, Cloud performs about half the show, despite barely being featured on the show's posters.
What does Shin Lim perform in his show?
Lim performs many of his acts from America's Got Talent and Penn and Teller: Fool Us, but with an extra Vegas flair. It's truly surprising to see how big he makes card tricks. But, it's worth noting that Lim exclusively performs card tricks that are projected onto a screen. This is likely one of the reasons why he co-stars with Cloud–it's hard to fill a 1200-seat theater with a projection screen.
What does Colin Cloud perform in Limitless?
Cloud is a perfect co-star to Lim because he performs exclusively mentalism in the show. Cloud makes classics his own, with versions of Q&A, book tests, and number divinations. Additionally, he wisely makes use of the technology in the arsenal at the Mirage Theater for a truly theatrical experience.
How Often Does Shin Lim Perform?
Limitless is performed on Mondays, and Thursdays-Sundays at The Mirage Hotel in Las Vegas. He and Cloud do one show per night, for a total of five shows/week. While there's nothing wrong with this, it adds context to David Copperfield's schedule of 2-3 shows per day 7 days per week for a total of 15 shows per week. That's 3 times more than Lim and Cloud.
Likewise, an article in the Las Vegas Review-Journal noted that Limitless plays to a typically 80-percent sold-out room, in a theater that seats 1,265 people.
What will Shin Lim Do Next?
What Shin Lim will do next remains to be seen. As of a report on September 6th, Limitless was extended through April 1st, 2024. The article suggested that Lim will continue his show through the end of next year, and that Cloud will leave, but offered no evidence to back that up.
Lim has a pretty sweet gig getting to do solid material in front of an enthusiastic audience with an extremely polished counterpart in Cloud. It's possible that the America's Got Talent gleam will wear off, but Mat Franco has headlined his show at The Linq since winning AGT in 2014 and is showing no signs of slowing down.