Siegfried & Roy's Palace And Items Up For Auction
Hundreds of items from the illusionists' personal collection are on offer.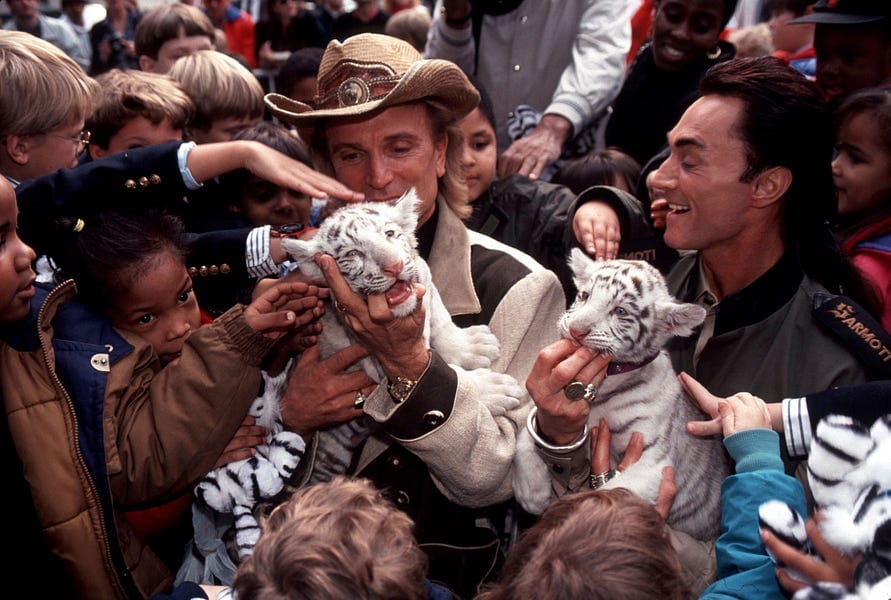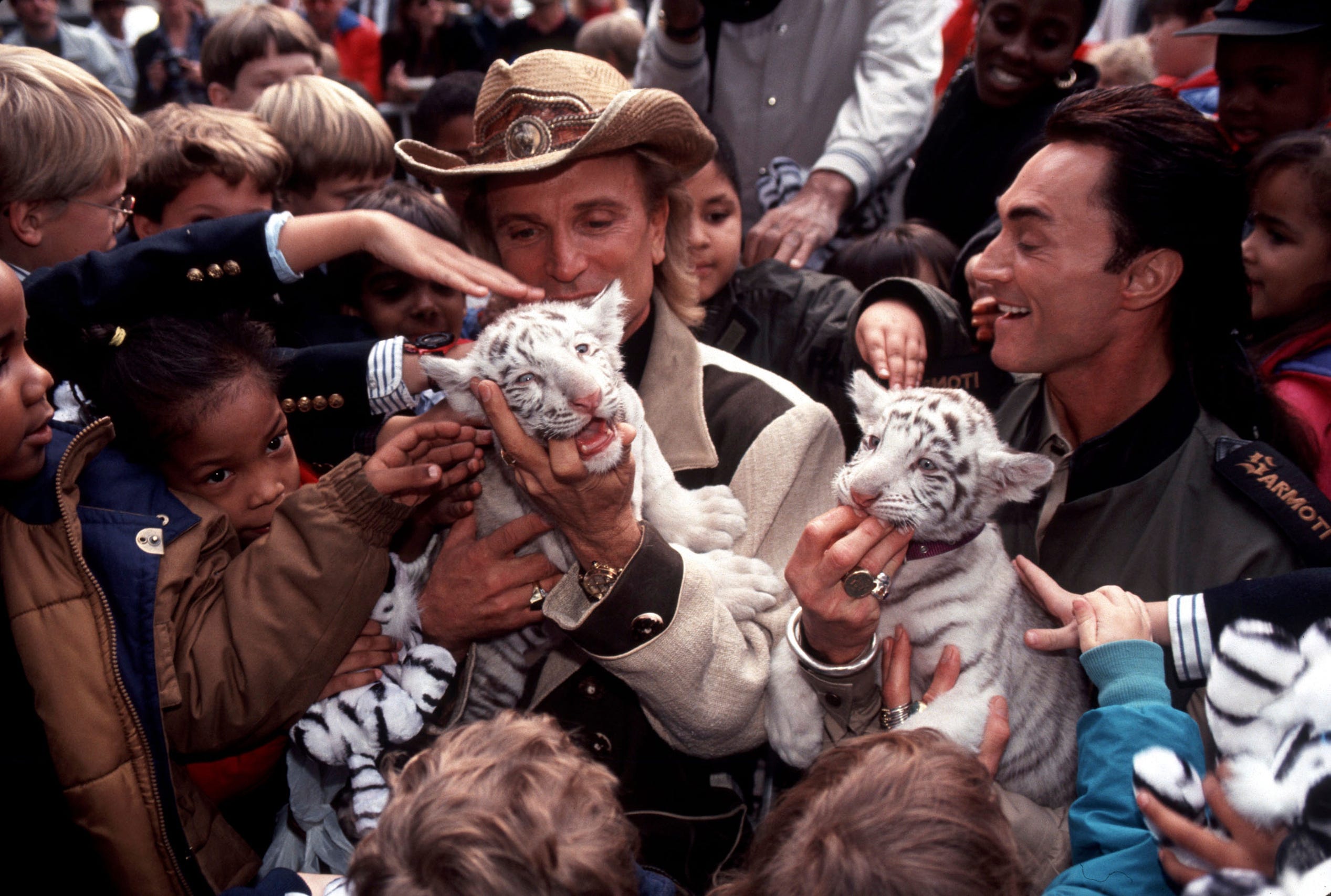 Have you ever dreamed of strutting your stuff in an electric blue satin suit, embroidered with silver sequins and rhinestones, with an 18 Karat gold tiger head pendant roaring from your chest, while pouring tea from a Leopard spot porcelain tea pot and telling the time from a vintage, French Japonaise, cloisonné clock in the shape of a turtle? Well, now you can, if you have $20,000 spare.
Yes, you're still reading One Ahead. No, we haven't been rebranded into a wannabe Antiques Roadshow fan page. The items listed above are magical memorabilia previously owned by the late Las Vegas legends Siegfried & Roy. They will soon be up for auction along with decades worth of extravagant pieces from the iconic duo's private estates.
Siegfried & Roy first met in the 1950s as stewards on a German cruise line. When it came to Roy's attention that Siegfried was a magician, he asked Siegfried, 'If you can make a rabbit disappear, how about making a cheetah disappear?' I imagine Siegfried was just as surprised as you are reading this to find out that Roy was keeping a cheetah called Chico in his cabin. Siegfried immediately took up the offer, and their beloved act was born.
They soon progressed from cruise ships to top European theatres. Still, their first big break was an invitation to perform for Princess Grace of Monaco (or Grace Kelly if you're called Mika) in 1966, where 'Chico fled through a celebrity-packed crowd, straight past Kelly and into the kitchens.' The audience didn't realize this wasn't part of the act and gave the pair a standing ovation.
Eventually, they made their way to Las Vegas. After nearly ten years as a popular Vegas side act, their first full-length show was at the New Frontier Hotel and Casino in 1981.  By 1990, they had signed on to headline at The Mirage in Vegas, which CEO of Feld Entertainment, Keneth Feld, described as 'probably the most expensive show in the history of the world at the time it was built:' a whopping $30 million! However, probably their greatest achievement was being parodied in The Simpsons.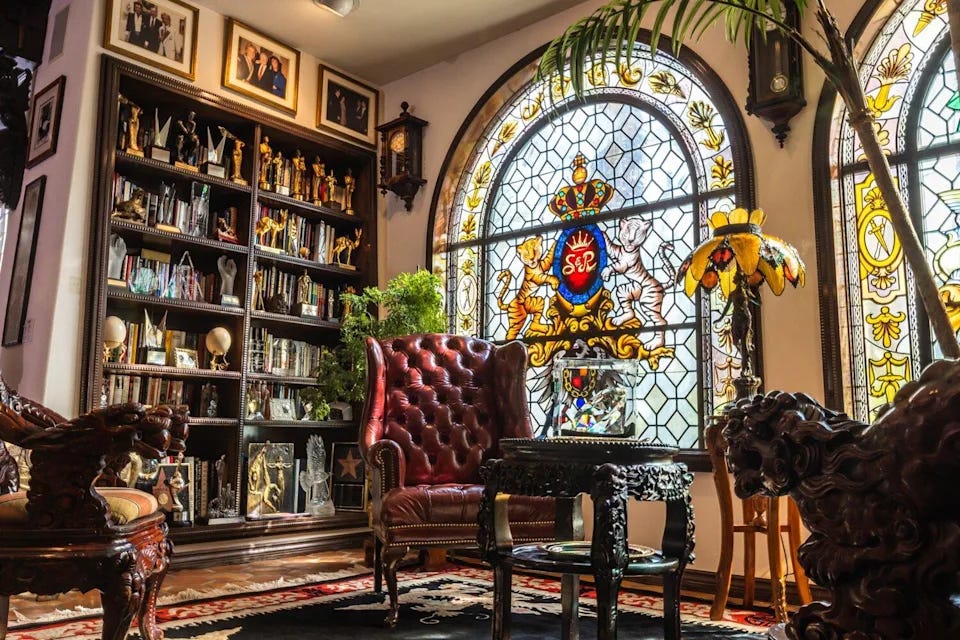 Considering the Leopard spot tea pot, the tiger head pendant, and Roy's pet cheetah, you don't have to be Sherlock Holmes to figure out that the quintessential part of their act was large cats. This did cause controversy, leading to when a White Tiger named Montecore attacked Roy during a live show, biting through his neck and leaving him 'partially paralyzed on the left side of his body.'
It was an event that nearly ended their career, but the attack didn't alter their love for the wild animals. They even set up the SARMOTI Foundation, a charity focused on preserving the endangered species.
The auction, which will occur between June 8th-9th, follows Roy's death in May 2020 from contracting COVID-19 and Siegfried's death in January 2021 following a battle with pancreatic cancer. There are approximately 500 items on offer, and all proceeds will go towards the SARMOTI Foundation.
---
—More from the week: