Become a Better Magician
Join 15,000+ readers and get our weekly magic newsletter.
I was working on a TV magic show when I was twenty years old. One day, at lunch, one member of the magic team made a joke about how every magician remembers their first hand job.
My reaction might be the same as yours now.
But then the magician went on to tell the story of their first-hand job for a music video in the 80s for a very famous pop star — a pop star you likely know.
Then one of the other people on the team shared the story of their first handjob for a Hollywood movie, and another told about a time they were in a TV commercial.
Magicians' hands appear all over the place.
In movies, television shows, music videos, and commercials.
And they're not always performing magic.
Sometimes, they're just holding things… nicely.
In today's post, we'll look at some famous examples of magicians' hands on the big screen, along with why magicians are the first choice for this kind of work.
Plus, how a magician ended up playing the hand in the recent Tim Burton Wednesday series on Netflix. And why he may be carrying on a casting tradition.
We can only write these stories with your support. Help grow the community by sending this story to a magician friend.
---
Part 1. Why Magicians?
There is a children's TV show called LazyTown.
It first aired in 2004.
I was just nine years old.
Ten years later, I met Dan & Dave.
The Buck twins are prolific for kickstarting and championing the cardistry movement. You can even watch them teaching cardistry in well-produced videos for Great Big Story and WIRED. If you like what you see, you can meet them at their Cardsistry Con in London soon this year, which I plan on attending.
Anyways, I was shocked to discover that Dan & Dave doubled for the hands of the main character in the opening sequences of the children's TV show, LazyTown. A cardist has since pulled clips from their segments and compiled them online.
And Dan & Dave they've done much more than children's TV since.
Big Hollywood movies like Now You See Me have featured their hand.
Those shots of Jesse Eisenberg shuffling cards — that was the Bucks.
In most cases, magicians will stand in for the hands of the lead actor.
The director gets to create the illusion that the actor has skills they do not possess. This saves production time and money while making a more polished final shot. It's just like having a stunt double for dangerous stunts or a body double for nude scenes.
As far as I know, Dan & Dave have not done body-double work.
But, just like with stunt performers, if the character does not need to be played by a big-time actor, and the hand double can act, well — they might just become the main character. Take a look at this commercial that features magician-turned-YouTuber Andrei Jikh.
And it's not just cards magicians get hired to hold and shuffle. You see, magicians are known for being good with their hands.
So, when commercials and movies need an item or product to be held perfectly, they'll often turn to magicians or dancers.
Are they right in believing that magicians are the best for these roles? Well, probably not — but let's agree not to tell them.
Many magicians have made careers as talented hand models.
Sonia Benito, a magician and dancer based in London, is often hired to show off products for brands like Samsung, Rimmel London, and Nespresso. By hiring Sonia, producers know they'll be able to save valuable shoot time — nailing shots with engaging hand movements every time.
You can think about it like how food commercials spend crazy money on food stylists and even custom-built robots that will perfectly slice pizza, pull food apart or even build burgers mid-air.
Magicians can execute the same flawless movement repeatedly, following directions well and ultimately showing off a product as best they can.
Take a look at this commercial featuring magicians Eric Jones, Anna DeGuzman, Andrei Jikh, Nic Suriano, Jen Kramer, and John Steiner. It was directed by Hollywood movie director and fellow magician Larry Fong. The product is a new phone that has absolutely no connection to magic. The advert has no tricks — just lots of flourishes and well-executed movements.
---
Part 2. Diversity Please!
Even in the last decade, something that has changed is the number of women in magic. This can be more obviously highlighted in the history of hand double work and magicians.
That first magic consultant who told me about hand doubling. The one who hand-doubled for a famous pop star. Well, the pop star was a woman.
He had been hired because he was very young at the time, and his hands were about the same size as the female pop star's.
The young magician's arms were shaved, and his nails got painted to match the musician's. And then he stood in and performed the flourishes for the music video.
Not long ago in the UK, young magician Billy Menezes hand-doubled for an older lady in a TK Maxx commercial (that's TJ Maxx for you Americans, though who knows why). Billy's hands were aged with makeup, and just like that first magician, he sported some bright nail polish.
When I first heard the story of the magician getting made up to be the hands of a female pop star, I thought it was pretty cool.
Over the years, this story has become a common thread.
And there have been instances in which directors have asked me to suggest magicians who could match the hands of a non-white actor, and the question has highlighted the lack of diversity in magic.
Yes, there are more and more diverse magicians entering the magic community. But there are few, and most are in all four corners of the world. The big films and commercials can afford to fly talent in from the other side of the globe. But very often, productions will opt for a local magician and use clever camera angles and make-up instead. They save money on flights, hotels and visa hassle.
You might look at the lineup at a magic convention and not think much about the lack of diversity. You might do the same for every new Vegas show or magic TV series. But there's something about a male magician's hands getting made to look like a woman's that is a bit more striking and harder to ignore.
This section is not supposed to be a big swing and dance about diversity in magic. We all know how imbalanced it is. There will be silly people reading this who will say something silly like, "The male magicians get hired because they're better." I won't wade into your silly argument, but I will point out that we are both on the same page regarding the solution: to create a more diverse magic community.
Nowadays, I'm pretty stoked to see female friends of mine getting hired for these jobs. It's happening because there are more women in magic, and that's great.
---
Part 3. The Thing About Thing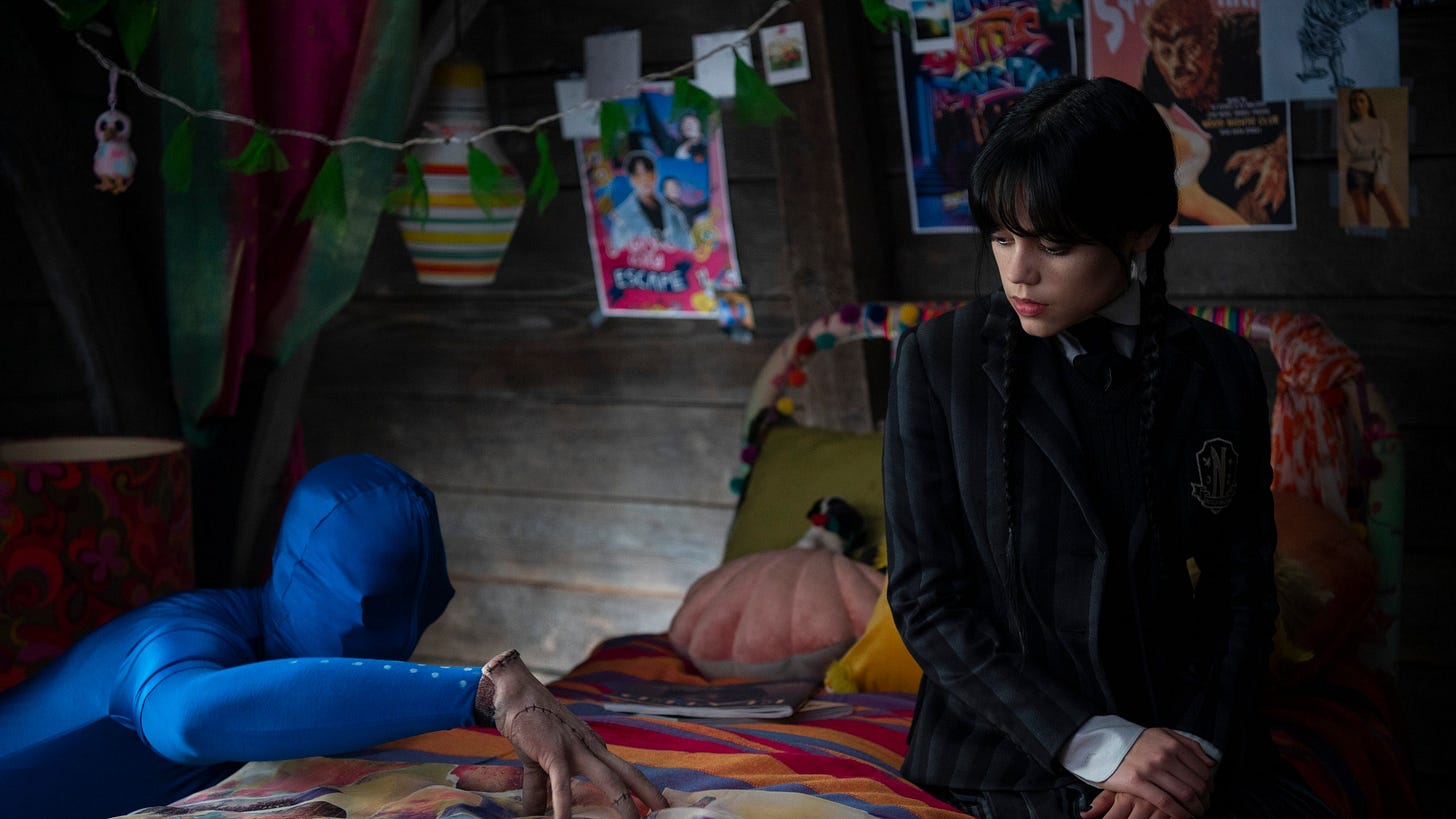 When it was announced that Tim Burton would be bringing The Addams family back to life in the form of a Netflix series, I was intrigued. My last name is Adams, and when the previous movie about the family came out, I loved it.
Kids at school would also click their fingers when I walked by at school, which I did find a bit unnerving — I think it was meant to be a way to tease me; the Addams Family theme had the clicks in it. But it ended up making me feel like I was on the set of West Side Story, surrounded by The Jets clicking at me.
Anyway! I was excited to find out who would be taking on the role of Thing in Burton's series. Thing is a disembodied but very much alive hand. For those that do not know, Thing was previously played by Christopher Hart, a magician from Canada. I wondered if a magician would be playing Thing this time round.
Well, Netflix cast a Romanian magician named Victor Dorobantu. Victor did a brilliant job at bringing Thing to life on stage. The character is a fan favourite, and you wouldn't believe how much emotion can be felt by a disembodied hand.
Victor spoke to a few film outlets like Slate.
Here are some fascinating insights he had to share about the role.
"We were trying to find ways to communicate, to find the images that we could use, to find the alphabet, like American Sign Language, that we could use. We were trying to find signs that scuba divers use, also Marine Corps and stuff like that. So we tried to just mix all of that together for 50 percent. The rest of the 50 percent was improvisation. I was trying to react to [Jenna Ortega's] lines and to her expressions, and I was trying to disconnect from my body.

About the behind-the-scenes: Everybody knows that the blue suit I wore was for the VFX guys. But also, we had scenes where we didn't need it, but we still used it for me, because it was helping me too—it was helping me to disconnect from my body.

Also, a big part of it was Tristan Versluis' work for the prosthetic team. They were trying to make Thing look exactly the same for each and every day. And all the prosthetic scars and the stump that we attached to my wrist, everything was a big process."
Victor was asked how he got the role in the show, which was shot in Romania. His answer gives another fascinating insight into how production companies needing hand acting go straight for magicians and look locally.
"Somebody called me and told me that the team was looking for magicians in Romania. I was doing magic until now, and other jobs as well—magic was kind of a weekend job for me. I was doing gigs and corporate events, doing close-up magic, not stage magic—like I'm walking around to people at parties and trying to do magic in their hands, you know?

They contacted me after seeing me on a TV show in Romania, something like [America's] Got Talent. They called me, I was like okaaay … I closed the phone the first time—I didn't believe it. I was thinking it's a joke, or a prank, or a scam. They called me over and over again until they convinced me to come. And when I went there, I didn't believe that I would get this role because other magicians that I'm a big fan of were there. So, I had no expectations, but here I am."
When asked about how magic contributed to his ability to play Thing, Victor's answer is honest and revealing. It highlights flaws in the public (and casting producers') perception that magicians are the best for these jobs.
"I've tried to explain the misconception that a magician would do this role, making it easy, but a magician is very mechanical with his hands. We are not gracefully moving our fingers and stuff. We are used to doing movements over and over again with cards, and stuff like that with dexterity, but that's not the helpful part for Thing. That repetitive part is easy for a magician, but sending emotions to his fingers and being emotional for each and every movement that I made with my hand, that's more complex than being a magician.

For me, it helped a lot being a guitar player. [I've been] playing the guitar since I was little, my father was a guitar teacher. Also, I was passionate about puppetry when I was in my teenage years, I was working in a child theater."
In all the interviews, I must say that Victor comes across as a brilliantly honest, thoughtful magician. I hope to see more from him and Thing in the future.
Here's hoping that casting producers continue naively believing magicians are the best bet for these types of roles.
Comments