Become a Better Magician
Join 15,000+ readers and get our weekly magic newsletter.
We're back with another episode of Patent Dive. In this ongoing series, we break down some of the most unique, infamous and interesting patents in the magic world. The goal of the series is to explore the many legal routes to protect magic tricks and how and why some of the best minds in magic have decided to patent their work.
In the last post in the series, we dived into David Copperfield's only magic patent. We hypothesised why Copperfield only has one magic patent out of all the illusions he's created. And we figured out why that one specific illusion needed to be protected.
Here's a quick recap on patents:
Patent applications are expensive.
There's no guarantee your patent will be approved.
You must be able to prove you are the inventor.
Patents are listed publicly in the inventor's name.
To patent a trick, you usually must expose the secret.
Who is Jim Steinmeyer?
Well, he's one of the most prolific stage magic inventors of all time.
Here's some of his biography:
Jim is responsible for popular illusions featured by professional magicians around the world, and special effects in theatrical shows from Broadway to Las Vegas. Through his designs and his writing on historical magic, he's been credited with creating the "defining illusions in contemporary magic:" deceptions featured by Doug Henning, David Copperfield, Siegfried and Roy, Harry Blackstone, Orson Welles, The Pendragons, Lance Burton, Mark Kalin and Jinger and many others.
When he's not busy creating illusions for stage magicians, he's busy on broadway.
In 2013, his illusions were featured in Disney's Aladdin at the New Amsterdam Theatre on Broadway, where the magic earned raves from audiences and critics alike, with special praise for the incredible Flying Carpet.
He produced illusions for the highly praised Las Vegas production of "The Phantom of the Opera," and the critically acclaimed magical effects for the Disney / Cameron Mackintosh stage production of "Mary Poppins," which opened in London and on Broadway. Also in 2009, Jim's magic was featured in the Mark Taper Forum Deaf West co-production of "Pippin."
Other theatrical productions have included the original Walt Disney Company production of "Beauty and the Beast" on Broadway, where Jim devised the famous climax of the show, when the Beast was levitated into the air and transformed into the Prince.  He designed the illusions for the 2002 James Lapine production of "Into the Woods."
You can purchase one of many books Steinmeyer has written about magic at his online shop.
---
Patent Dive: Illusion Apparatus.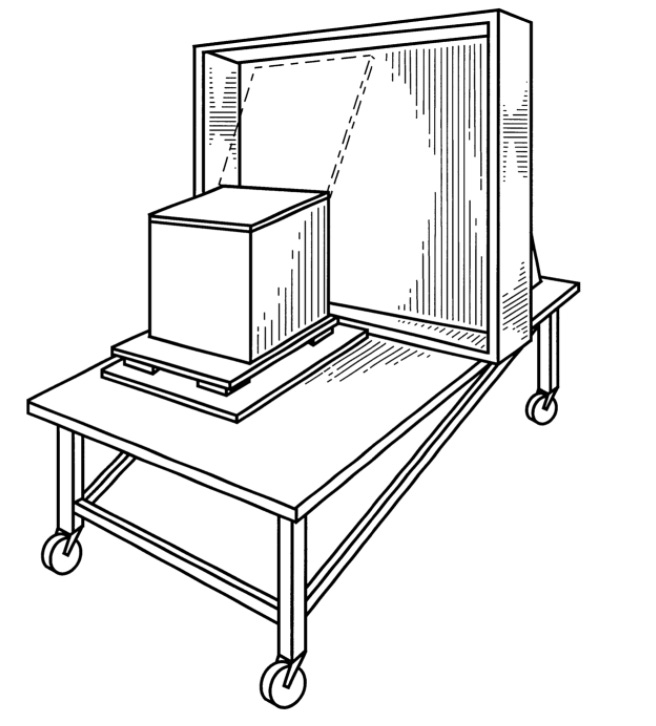 Steinmeyer holds four magic patents. These were granted every three years from 2003 onwards. Each of these illusions has fairly nondescript names. This is the standard for patents of all kinds. But there's something that Steinmeyer does with his magic patents that's rather unusual. Something I have not seen before when researching magic patents.
Steinmeyer's patents are unique.
You might remember how complex and detailed Copperfield's illusion patent was. Well, this is the full description of Steinmeyer's patent for the illustrated illusion above.