Become a Better Magician
Join 15,000+ readers and get our weekly magic newsletter.
This is a free magic news post. Get full access to columns & trick tutorials.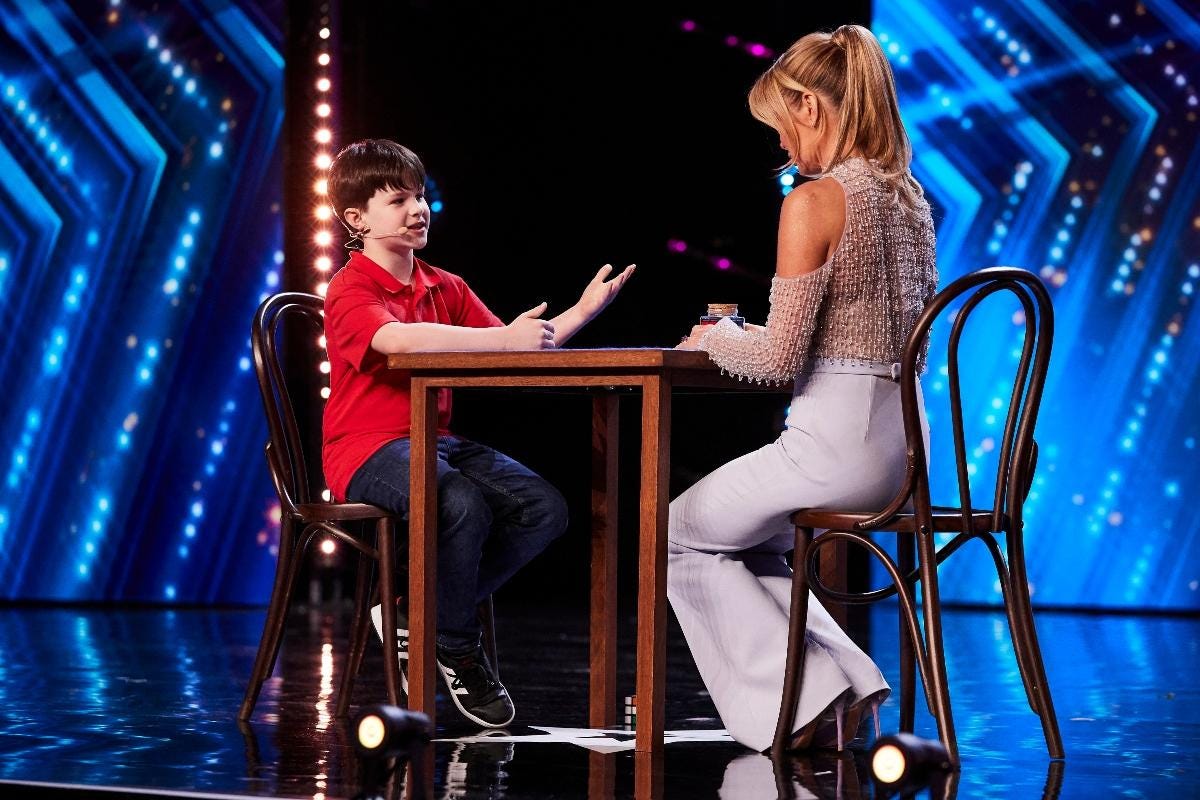 With one more week u the final round of auditions and the highly anticipated live Semi-Finals, we have seen a great display of magic in this year's Britain's Got Talent (BGT). From the fast-paced visuals of Matricks Illusion to the eerie Invisible Magician, and the golden buzzer for Keiichi Iwasaki, the competition so far is strong. However, one act that has particularly stood out is young magician Ryland Petty, son of the legendary (and infamous) Craig Petty.
If you haven't seen his audition yet, you should check it out: Ryland wowed the judges by pushing a Rubik's cube into a glass jar and causing 16 randomly scrambled cubes to create a love heart mosaic with the help of members of The Young Magician's Club. The audience gave Ryland an instant standing ovation, and his performance has so far amassed over 1.3M views on YouTube.
The response to his act has been highly positive. When I spoke to Ryland and Craig earlier today, he told me he had received massive praise from names such as Steven Brundage, creator of Cube 3, but his favorite response was from a friend in his class who cried when he saw his act.
Those who attended the Blackpool Magic Convention earlier this year may have seen Ryland's act before, as he performed in both gala shows. Ryland told me this was invaluable flight time, as 'something went wrong in the first act, but [he] now knows how to fix it.' Having been there, I can confirm that his ability to deal with a problem quickly is a testament to his professionalism. Despite his age, his wealth of experience is no surprise considering he is Craig's son.
Craig rose to prominence nearly a decade ago on the Wizard Product Review (now the Wizard Magic Review). After a brief fallout from the magic industry, he returned with a new channel in lockdown, called MagicTV, which put his name back on the map.
When I asked Ryland about his experience on BGT, he explained that he originally auditioned at the ages of 7 and 8, but production canceled both times due to you-know-what. In hindsight, this was for the best: 'I was a bit rubbish at 7,' he joked. Lots of rehearsing took place from then on, including choosing all of the tricks himself and learning choreography from friends and colleagues, Matt and Liz. If he's lucky enough to reach the semis, he has big plans but wouldn't go into more detail—the tease.
Outside of BGT, Ryland's future is looking bright, with talk of magic releases around the corner and a spot at The Magic Circle Convention. Let's hope we hear his name when the semi-finalists get announced.
---
Bonus Links
---
Comments