Magic Circle Awards Criss Angel With...
David Penn presented this before Magic Live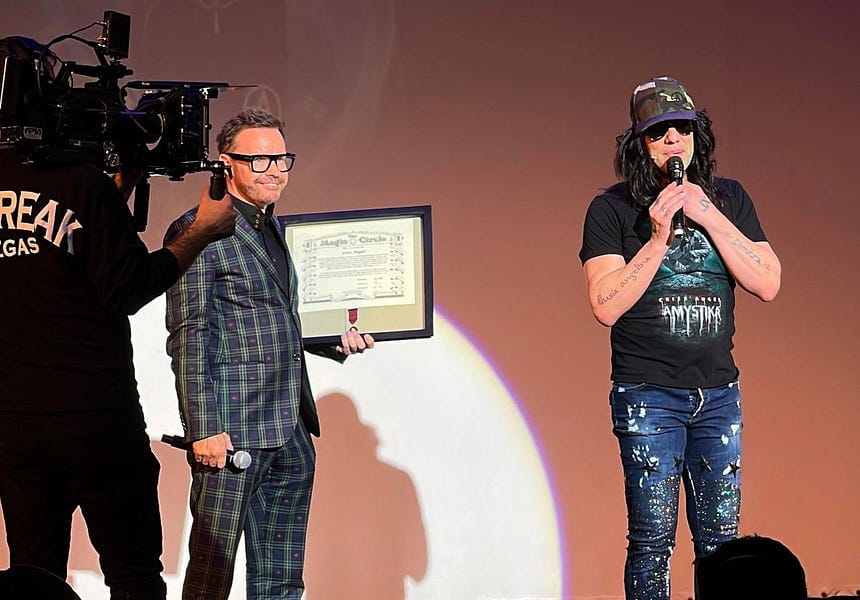 Criss Angel, the grungy American Magician who just so happens to be one of the richest on the planet, was awarded a Professional Honorary Membership to The Magic Circle last Friday.
The world's most famous magic society based in England sent Council Member, David Penn, to Las Vegas on their behalf. Penn presented the prestigious prize to Criss during his live show, Mindfreak. As he was handed the award, Criss praised his fans and his supporters, saying 'it's all because of you that I get all of these incredible opportunities' and the crowd couldn't have cheered louder.
This is the most recent of Criss' innumerable accolades. In 2018 he was given the Lifetime Achievement Award from the International Brotherhood of Magicians, a title so prestigious it has only been awarded 5 times in 100 years, and the passing of revered illusionists Siegfried & Roy means that Criss is the only living magician to hold such an honor. Plus, if that wasn't enough, in 2017 his name was etched on the Hollywood Walk of Fame.
In many ways, it's no surprise that Criss has become such a lauded entertainer. With a professional career that spans nearly 25 years, one of his first big breaks was an off-Broadway show, which was also called Mindfreak. The show ran for over 600 performances before closing in 2003, after which he jetted from New York to Vegas to record a TV show that would be regarded as 'the most successful magic show in television history' called, you guessed it, Mindfreak.
Other ventures include collaborating with Cirque Du Soleil on the hit Vegas show BeLIEve, and a return to TV in 2016 with a special Trik'd Up, so he's much more than just a Mindfreak; he has other titles too you know. Oh, plus he owns his own restaurant called Chris Angel's Breakfast, Lunch and Pizza and yes, it's a real thing!
It seems, however, that out of everything Criss has achieved in his life and career so far, the honorary membership he received on Friday was all the more pertinent, calling the moment '#history' on Twitter. On the night, David Penn described the award as 'the highest award that The Magic Circle bestows on any performer', previously handed to names such as David Berglas, Dynamo, Wayne Dobson, and David Copperfield to name but a few.
To Criss, this monumental moment comes during what's already been a very busy time for the illusionist. Only a few weeks ago, he performed a hanging upside-down straight jacket escape before an NFL game and he recently opened his brand new show AMYSTIKA at the Criss Angel Theatre in Planet Hollywood, Las Vegas.
If you want to be awarded an honorary membership just like Criss, then bear in mind that it is granted to '…magicians who have served the art at the highest level and those who have served the Society itself.' So I'm probably 2 or 300 more articles away from receiving my own I reckon.
---
Bonus Links
---